De Un Solo Uso
Ambu® Neuroline 700
Para el registro de la actividad muscular y nerviosa, de manera fácil y efectiva.
Beneficios Principales
check Gel sólido adhesivo, permite el reposicionamiento
check Respaldo de material suave y flexible
check Sensor de plata/cloruro de plata, óptima calidad de señal
check Forma especial para máxima adherencia
check Posibilidad de cables de colores, varias longitudes y conectores
check Useful for examinations of children due to its small size and flexible material
Información General
Los electrodos de superficie Ambu Neuroline 700 y 710 han sido diseñados para realizar múltiples pruebas de neurodiagnóstico sobre la piel, fuera de las áreas cubiertas por pelo. Estos electrodos han sido desarrollados para cumplir con las necesidades modernas y ofrecer una mayor eficacia.
Los electrodos de gel sólido de Ambu Neuroline son autoadhesivos. Al ser fáciles de reposicionar, permiten la localización de diversas áreas de registro, sin dejar ningún residuo de gel sobre la piel. El área de registro está bien definida, con lo cual las condiciones de medición pueden ser reproducidas de manera precisa.
El material del respaldo del electrodo es muy suave y flexible, lo que asegura la comodidad del paciente, incluso durante pruebas prolongadas como los estudios de sueño. El gel adhesivo ha sido formulado para ser especialmente suave e inocuo sobre la piel.
Características principales
Los electrodos Ambu Neuroline 700 y 710 se encuentran disponibles con cables blancos o de colores. Existen varias configuraciones distintas en cuanto a la longitud del cable, que varía entre 10 cm y 150 cm, además de contar con diferentes conectores para tener una amplia gama compatible con los diferentes equipos del mercado.
​​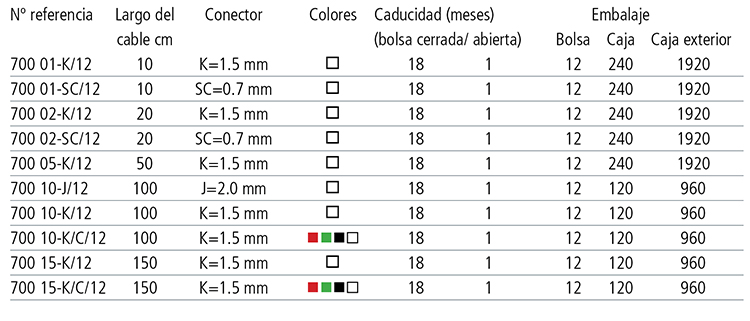 ​Cables de colores:
R / V / N / B = Rojo / Verde / Negro / Blanco
Variedad de tamaños
Dos tamaños
700 Dimensión
15 mm x 20 mm, área de medición: 263 mm²
710 Dimensión
20 mm x 28 mm, área de medición: 490 mm²
Piezas de repuesto
No hay recambios ni accesorios para este producto.